Links of Interest
Below are some interesting sites for you to enjoy and maybe some you could use.

Dry Valley Farm, Private pheasant hunting at it's best. We are a small Pennsylvania farm in Union County, just south of Lewisburg and west of Winfield along route 304 near the little Village of Dry Valley. We use pheasants of the Mongolian strain as they are much larger and fly higher than the typical Chinese pheasant. Membership packages are available, but you don't have to be a member to enjoy some of our half day hunts, but were sure you'll have a good time on one of our private hunts. No hunting license required and Bird Dogs welcome.
Baskets by Debbie, LLC, Creating baskets for gifts is something I enjoy doing, investing the time and energy to make it extra special is rewarding to me. Baskets by Debbie is committed to making a gift you will be proud to give. A gift is given from the heart. We will do our best to make your heart known. It is our mission to provide quality gifts at an affordable price, and take the guess work out of giving. We will do our best to provide our customers a gift they are proud to give.


Freedom Life Church, At Freedom Life Church we desire to help people who are far from God discover Gods purpose for their lives. We desire to be a place where the hurt and wounded, will find love, healing and hope in Jesus Christ. Some have compared visiting a new church to the first day at a new school. New faces, new facility, new fears. Unfortunately, that is unavoidable. It's all part of the experience. We understand that, so we try to make it as easy for people to visit Freedom for the first time as our guest. You will not be singled out. In fact, you will probably find a lot of people here are just like you. Searching for answers.
MEMCO of PA, We offer: On-site Chiropractic Table Upholstery, Electric Motor and Hydraulic Cylinder Repairs for chiropractic tables and podiatry exam chairs and X-ray Machine removal and disposal including required DEP paperwork. For annual equipment calibrations and inspections we compile a detailed equipment inventory, inspect the equipment, and show the quantitative electrical, temperature, or output inspection data of your equipment including exam tables, exam lamps, AED's, EKG's, patient scales, freezers and refrigerators, autoclaves, Ultrasound and e-stim, NIBP monitors, beds and much more. If correctives are needed we can address that for you as well. You will be provided with an Inspection Data Sheet and Certificate of Calibration for your Healthcare manual. Price is based on inventory size and distance. Serving Pennsylvania care providers for 17 years with a combined 35 years of experience.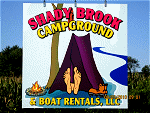 Shady Brook Campground, We offer large and spacious campsites, with lots of "Elbow Room", with over 95 camping sites that include daily, weekend, monthly, transient and sea¬sonal availability. Sites include: RV, back-in, tents and cabins. All sites offer water connection and full electric service with 20/30/50 amp service. We have an LP gas cylinder exchange. Kayaks, canoes and electric boat rentals are available for anyone including the public to take to any of the nearby lakes, creeks or waterways. We offer a variety of entertaining programs throughout the season. Please come and enjoy the beauty, tranquility and quiet in the mature forest at the foothills of Shade Mountain.